It seems like that finally, the craze of our very own SRK has taken over the whole US. Recently, we saw the President of the US, Donald Trump, mention DDLJ as a classic Bollywood movie. The headlines didn't go out of the talk yet, and soon, the famous 'Thor' actor Chris Hemsworth says Shah Rukh Khan's famous dialogue in a video from 'Extraction' sets.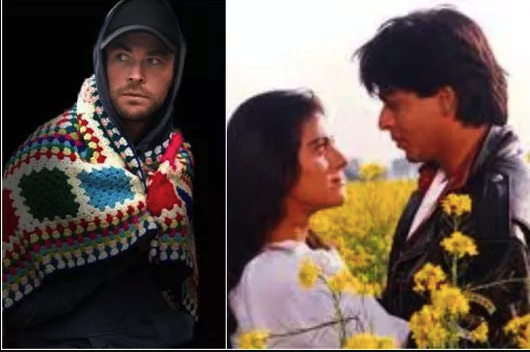 While shooting for his upcoming Netflix film Extraction, Chris Hemsworth came across a bunch of Indian crews and cast members, which included Randeep Hooda, Priyanshu Painyuli, and newcomer Rudhraksh Jaiswal. 
During the break, Rudhraksh, who is known to be a crazy SRK fan, asked Chris to repeat a popular SRK dialogue in his own accent. Chris, not having any clue regarding what to say, repeated after Rudhraksh, the famous line that said, "Bade bade shehron mein aisi choti choti baatein hoti rehti hain" dialogue from Bollywood film Dilwale Dulhania Le Jayenge (1995). 
Once he was done saying the particular dialogue, everyone on the set had a fun moment to share, and once the video was uploaded, it went viral in no less time. ###