Google has been testing a new service referred to as Play Pass. It is, in fact, a subscriptions service that lets you enjoy and opt for hundreds of premium apps and games for free – on payment of a monthly fee. While the download of premium apps and games has been a one time process and provides you access to the apps and games for a lifetime once paid for – even after you opt for different phones in future.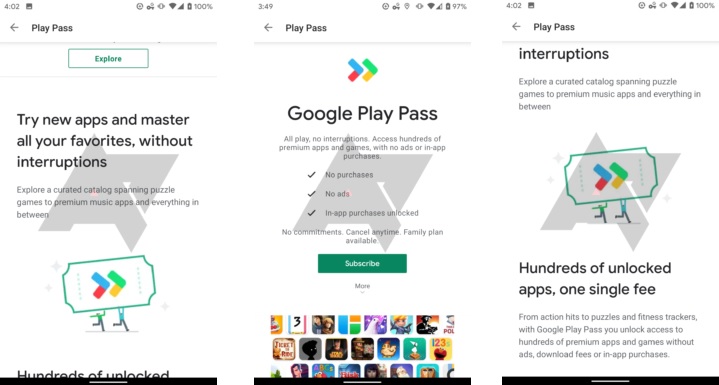 Google Play Pass is under testing as of now, and if the discussion on the XDA developers forum is to be believed, the service has been under testing since a year. This is something akin to a similar service from Apple – labelled Apple Arcade which is slated to be available by the end of this year. However, the major difference between Apple Arcade and Google Play Pass is that the former is limited to games alone and the latter is applicable for both apps and games.
The Play Pass service has been ready already in terms of development and presumably in the final stages of testing. As per the statement from Google, the service will offer "puzzle games to premium music apps … [with] access to hundreds of premium apps and games".
It is expected that the service will be launched way before the launch of Apple Arcade. The initial period of the soft launch of the program will come with a free trial option. The screenshots from the anonymous users suggest to the possibility of a free trial of 10 days. While the monthly subscription has been stated to be $ 4.99, we expect the same to change by the time Play Pass is made available for every user later this year. The service is also likely to be launched with different content for different regions. The content is said to be curated based on the regions.
The news was first broken by Android Police. All the apps and games available through the Play Pass subscription will be free from any sort of ads or in-app purchases. While the compting Apple Arcade program is available for all device and platforms in the Apple ecosystem that includes Mac, Apple TV and iPads, it is not certain whether the Google Play Pass will be available on other allied platforms like Android TV.
The company has confirmed that the program is under testing and will be launched quite soon. Once it does, we would be able to find more of the details soon enough. ###